Peter Zhdanov
-
24 November 2021
Chess Superstitions
Anyone who has been part of the chess community for long enough knows that quite a few chess players are superstitious. How large is the number, however?
Here are the results of a poll conducted at Pogonina.com regarding mascots:

As you can see, almost half of the respondents have a mascot, and about 6% used to have one in the past. Please note that this only concerns mascots, whereas many other superstitions are popular among chess aficionados! Let's review some of the most prevalent ones.
Mascots; lucky items.
Quite a few chess players use the same "lucky" pen for every round.
Another widespread approach is to wear the same clothes as long as things go well and change the outfit once you lose. Therefore, when you see a chess player in a greasy sweater, it may be due to this superstition! Alternatively, some players sport chess-themed clothes, probably also hoping that it will boost their results. Former Women's Chess Champion Alexandra Kosteniuk is one of the fashion icons in this sense.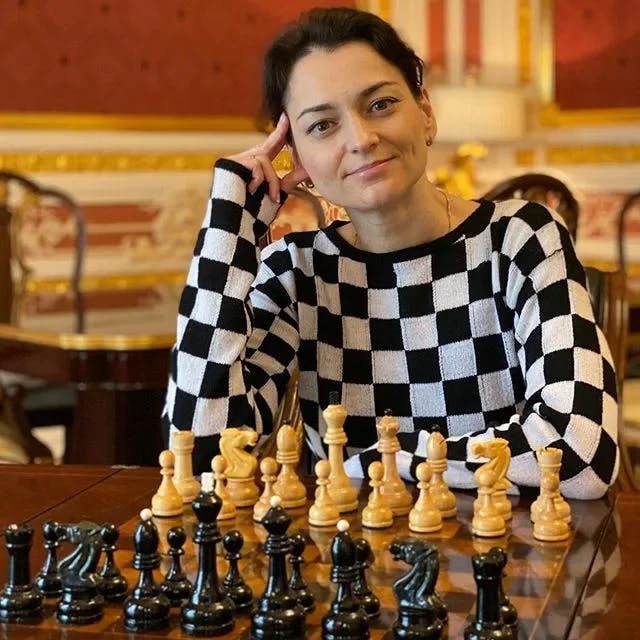 Here is another remarkable outfit, this time by GM David Navara:
Also, a lot of players bring special mascots to the tournament. For instance, in her junior years, Judit Polgar (whose Zodiac sign is Leo) used to carry a statue of a lion with her wherever she went. If you ever got a chance to play against Judit Polgar, Age 9, in the Play Magnus app, you would surely know this interesting fact!
Or, another related example, Teimour Radjabov revealed during his room tour in Moscow that he carries a statue of Napoleon with him when traveling.
No shaving.
Similar to wearing the same clothes, many chess players choose not to shave their beards/mustache until they lose. For instance, in the World Cup in 2021, Sam Shankland progressed to the ¼-finals, where he was eliminated by former Candidate Sergey Karjakin, without shaving.
There are plenty of examples of this type; it is one of the most popular superstitions among male chess players.
(Un)lucky numbers.
A prime example in this category is the legendary Garry Kasparov. Born on April 13, he became the 13th World Chess Champion in 1985 (8+5=13). Throughout his entire chess career, he believed 13 to be his lucky magic number.
Also, he was notoriously serious about thinking that the age gap between him and Karpov (12 years) and him and Kramnik (also 12 years) was a sign from above. According to this theory, the next World Chess Champion was supposed to be born in 1987. When Teimour Radjabov, who was born in that exact year, defeated Garry Kasparov in Linares with Black in 2003 and received the best game award, Garry was mad about the judges' decision. At that time, the prospects of Radja becoming the next WC were widely discussed in the chess community. However, as you probably know, the next Challenger will be Ian Nepomniachtchi, while the hottest guy on the block is 18-year old Firouzja Alireza, who recently became #2 on the live ratings, crossing the 2800 mark. Still, Radjabov is expected to compete in the following Candidates, so we shouldn't write him off yet.
Birthday curse.
In this video, Magnus Carlsen addressed another popular chess superstition – the birthday curse. Since many pros have to play tournament games on their birthdays, there is a certain notion that more often than not, it results in suffering losses. Quite often, the players feel low when they approach their birthday eve, and their thoughts wander elsewhere, so it is hard to focus on chess. However, when on his birthday Magnus Carlsen convincingly won the playoff against Sergey Karjakin in New York in 2016, he waived this superstition off:
In chess, it is said that you should not play chess on your birthday; that it's bad luck. So far, I have yet to experience that.
Let's hope that these words won't become prophetic and bite him since on November 30, 2021 Carlsen will be playing Game 4 of the World Chess Championship match. Unless you are rooting for Ian Nepomniachtchi, of course!
Belief in mystical/paranormal powers.
This item stands out from the line a bit. Let's consider Viktor Kortschnoj, who played two World Chess Championship matches against Anatoly Karpov. Viktor was highly superstitious and genuinely believed that Anatoly Karpov's assistant, a parapsychologist, could hypnotize the former by staring at him from the playing hall. Later Kortschnoj half-seriously lamented that Carlsen must possess hypnotic powers to defeat other Grandmasters so easily in drawn positions.
Also, Kortschnoj played a correspondence match against the late Geza Maroczy, earnestly believing that such a feat is possible to achieve.
Numerous articles and even books have been written on this topic. One of the most recent and interesting ones, in my opinion, is this column by GM Genna Sosonko who knew Viktor The Terrible quite well. By the way, it opens with a mention of the fact that Viktor considered 19 to be his unlucky number.
Favorite rituals.
During tournaments, the routine of most chess players reminds the Groundhog Day movie. They eat at the same places, take the same walks, prepare the same way and at the same time, etc. In part, this is similar to having a wardrobe full of identical black t-shirts: you save time and mental energy by not having to make a choice. However, some players stick to their rituals since it is their way to get into the right state of mind for the game and to convince themselves that they will do well, especially if the ritual has worked well in the past.
Let me share one of my personal secrets. I try to show up for the round earlier than my opponent. Then I take my pen and pretend to fill in the result on the scoresheet. 1-0 if I am playing White or 0-1 if I am Black. From what I have seen, if I manage not to be late and perform this feat without my opponent catching me red-handed, I do win. Just kidding, of course. This is more of a way to shake off the tension for me than something I genuinely believe in.
Finally, since the Carlsen – Nepo match is about to begin in Dubai, it is quite relevant to hear what Ian Nepomniachtchi has to say on this matter. Let me quote his recent interview for Chess.com:
Are you superstitious? Do you have any lucky items?
I used to be like this, and one of my first coaches told me "ok, it's very normal that you get to play wearing the same shirt if the tournament is going alright, don't change anything in your daily routine." But in general, I have found a lot of arguments for both takes on superstition.
If a tournament is ok, if it's going great, I would say you can do whatever you want. Just don't try to harm the way you work, the way you play, the way you prepare. But if the tournament is bad, it's very likely nothing will help you [laughs]. You can change your clothes 10 times, and change your pants or something, but it would hardly ever have any serious effect. So, in general, you have to be more realistic. Yeah, it's easy to talk like this when you're not involved in any tournament, but during the tournament, it can be very different. Well, let's see what happens.
What is my take on chess superstitions? The fewer things your mood is dependent upon, the better. I've seen people make quite a fuss about forgetting a favorite teddy bear at home or losing a beloved pen. You don't want your confidence level to depend on such things. Better trust in yourself rather than in the magic items or circumstances.